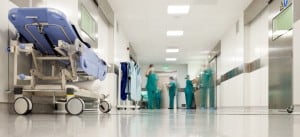 An alarming fact shows 1 in every 25 hospital patients contracts a healthcare-associated infection, according to the Centers for Disease Control and Prevention (CDC). This means that germs, contaminants and other factors within the hospital actually cause an infection.
Indeed a shocking statistic but it clearly brings home the importance of cleaning and disinfecting in our medical venues, big and small. Because of this, it is of the utmost important that your medical buildings are kept pristine, sterile and safe.
Clean and Professional Facility
A less alarming but still important reason for top-notch medical building cleaning is that your patients expect to be treated in a clean, professional-looking healthcare center or medical facility. With the cost of Medical Care in the 21st Century being as it is, a patient is expecting state-of-the-art medical equipment along with top notch professional treatment and care. A clean medical facility says exactly that. It promotes the fact that you are a professional practice that puts your patients' health and safety as a top priority.
Professional Medical Building Cleaning
At Atlas Janitorial Agency Inc., we work in conjunction with our customers and other health professionals to create a healthful environment in our medical offices to bring a standard of cleanliness our customers can be confident and proud of. We help protect the welfare of not only your patients but your medical staff as well.
Latest medical cleaning techniques
Staying aware of the latest chemistry and techniques for cleaning our medical facilities we pride ourselves as being leaders in providing the latest cleaning science to all of our customers.
To help safeguard your patients and practice we implement the protocols for your particular medical needs as well as the standard techniques common to all medical facilities. Providing a clean and germ free environment for your patients creates trust and confidence. Where this type of relationship exists, your patients refer family and friends as a result of being impressed with the level of care they have received. A professional, clean medical facility says exactly that. Word of mouth is the best form of promotion that even money can't buy.
Consider the cost of cleaning as part of your promotion budget because in fact it is. A clean facility is imperative not only for the health of your patients and staff but as an aesthetic statement which silently promotes goodwill.
Medical cleaning specifics
The cleaning of a medical facility requires certain protocols not found in general office cleaning. Having knowledge on particular medical contaminants is important, such as:
blood borne pathogens
infectious waste
sharps
Another important area in medical building cleaning is the proper handling or disposal procedure for waste. The protocols must be followed correctly for the safety of your patients, your medical staff and your cleaning staff. In addition, the wearing of surgical gloves is necessary so as not to be exposed to infection through things you touch as well as to protect your skin from exposure.
Special cleaning products are used in medical building cleaning to lessen and control the amount of infection/virus/germs in the environment and on the various surfaces, tables, floors, etc.
Day porters
Another service we can provide our customers with is a day porter. A day porter is a cleaning personnel who cleans during the day, usually during business hours. For example, a day porter may be needed at a convenient time during the day to care for the patient restrooms. The cleaning/sanitizing along with the restocking of the supplies requiring only a short visit can be scheduled as needed.
Each situation is different and a proper detailed program must be written up to address the needs for that facility and come in within budget.
Our Results
Our customers appreciate our attention to the details that are needed in their facilities, as well as our efforts to be within their budgets, a paramount issue in today's economic environment. If you are in need of healthcare facility professional cleaning services in Los Angeles or surrounding areas, we can help you.
Call now or click below to get a free estimate